The incredibly easy way to personalize high-quality plastic ID cards.
Clear, colorful printing of text, graphics, photos, bar codes and digitized signatures on one or both sides of the card.
Optional modules encode data for contact and contactless smart cards plus proximity and magnetic stripe cards for access control and other applications.
Eliminates hassles of loading ribbons and cleaning rollers with an easy-to-load integrated ribbon cartridge.
Print on card as thin as 9 mil and as thick as 40 mil. This includes the new thin plastic cards all the way up to clamshell proximity and smart cards with embedded electronics.
Ideal for small to mid-sized businesses, K-12 schools, local government, and membership and customer loyalty programs.
The Persona M30e is designed to personalize plastic cards with monochrome text, photos, bar codes or magnetic stripes, quickly and economically. It's ideal for on-the-spot issuance applications such as membership, library and customer loyalty cards, and visitor badges, where personalized data is added to pre-printed color cards.

About Direct-to-Card Printing

Direct-to-Card (DTC®) printing uses dye-sublimation and resin thermal transfer technologies to print sharp, clear, colorful images directly onto the surface of the plastic ID card

2 Year Warranty

Relax with the peace-of-mind that comes from the Persona® C30e two-year warranty. If anything should go wrong, the warranty includes depot service at the factory.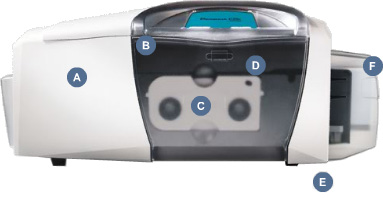 Print two-sided cards faster without extra card handling. Choose the C30e Dual-Sided model for printing both sides of your card in one pass.
Make your C30e more versatile by adding smart card and access control capabilities. Optional modules encode data on to contact and contactless smart cards plus proximity and magnetic stripe cards for access control and other applications.
All-in-one cartridge loads ribbon and cleaning roller in a snap - no threading or fumbling. Simplifies operator training and eliminates the expense of torn ribbons.
Maintain print quality while protecting the printhead. Cleaning roller removes damaging dust and debris from each card before it's printed.
For one-color printing applications, such as personalizing preprinted ID cards, the Persona M30e uses resin thermal transfer print technology for sharp text, graphics, photos and bar codes.
In addition to standard thickness cards, the versatile Persona C30e prints thin (9 ml) plastic cards that are easy to mail, slip in a billfold or attach to a medial chart, the C30e also prints rewritable cards that eliminate the waste of single-use cards such as visitor badges.
---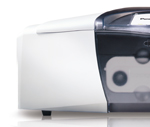 Optional dual-sided printing
Dual-sided printing doubles the printable area of your ID cards. That means you can put larger photos on the front, and additional information, bar codes and digitized signatures on the back. Dual-sided printing can also make cards harder to counterfeit.
---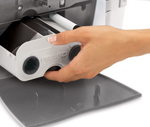 Easy-loading ribbon cartridge
The Persona® C30e takes the hassle out of handling printer supplies. Its easy-loading ribbon cartridge combines the printer ribbon and card-cleaning roller into one disposable unit. Just slide in the cartridge, close the door and you're done. No feeding or tearing ribbon rolls, no fumbling with separate cleaning rollers.
---
---